Predator Hunting Gear

Predator Calls, Nighteyes lights, Star Night Hunting Light Packages, Night Scopes, Predator Calls, Starspot Hand Held Light

Predator hunting gear has reached an all time highs in the last few years. With the new technology and the spread of predators including coyotes and foxes that take out a lot of small game animals from across the country. Predator hunter needs to have great skill, and cunning to harvest predators. Most predators are shot at longer ranges. The predator animal we are looking for must be called in to a good range for the gun the hunter carries. His shot must be clean. most predators are hunted after night fall. Good scopes and bright spotting lights to make a clean shot, for a kill.
Checkout some of the new hunting lights we carry for your predator hunting and other types of hunting.
Night Eyes The Ultimate Predator Hunting Lights
Night Eyes Head Nights
Super bright Night Eyes predator hunting Lights are lite weight and really reach out there and touch your prey.
Night Eyes offers the only dual-color beam headlamp specifically designed for hunting. This headlamp is designed to meet the needs of the night time hunter. You will not find any other headlamp on the market today that will even come close to the features and durability of Nighteyes Preadtor Headlamps.

The HL50-Q has a unique twin-head design with one beam being either red or green (your choice) and the other beam white. This makes it ideal for scanning with the color beam and then switching to the white beam for tracking and game recovery. The beam color can be easily changed by pressing the pressure button located between the two light heads. Like our other headlamps, the on/off and brightness control button is located conveniently on the camouflage headband. The brightness of both beams are fully adjustable. When set at 40% brightness the hunter will see predator eyes at over 250 yards and will get 9 plus hours of run time. The unique ability to choose your beam color and adjust the brightness level makes this light very versatile, it is like having two headlamps combined into one. The HL50-Q kits also includes an optional halo shield to help prevent unwanted peripheral light from shining on your equipment and/or hunting partner while scanning. The HL50-Q was designed for hunting but because of the additional white beam it can also be used for fishing, camping, biking and just about any task around the house or at work that requires hands-free lighting. pick color when ordering.
HL08LED Head Lamp
One of the most unique features about the
Night

Eyes

Headlamps is the special design of the control circuitry which allows the hunter the ability to adjust the brightness level from 10% up to 100% and then have that desired brightness programmed into the memory.

The memory can be reprogrammed as many times as the user would like. These lights also have other programmable functions such as strobe, flash, etc. The HL08 series headlamp weighs less than 6 ounces so it can easily be worn all night long without any discomfort. The HL08 series headlamp has an intense, flawless beam that when set at only 40% brightness a hunter can see an approaching coyote's eyes at over 250 yards. Also, when set at 40% brightness the light will provide a continuous run time of over 9 hours with just one battery charge. The HL08 kits also includes an optional halo shield to help prevent unwanted peripheral light from shining on your equipment and/or hunting partner while scanning.

FEATURES:
High-intensity GREEN LED with 50,000 hours burn time
Ultra clear glass lens provides maximum light transmittance
Computer designed alloy reflector provides a seamless beam with optimal focus
Adjustable light head
Aircraft grade aluminum body resists impact and effectively dissipates heat
Military grade hard-anodized finish resists scratching and corrosion
Weatherproof design allows it to be used in extreme cold or during heavy rain
Fully adjustable elastic straps ensure a comfortable fit
Lithium-ion batteries can be conveniently charged by plugging the AC cable directly into the battery holder (no need to remove the battery)
Intelligent Circuitry incorporates over-charging and reverse polarity protection
Precise brightness control Via simple single button interface
Low voltage warning
SPECS:
Type: NIGHT EYES Headlamp
Emitter: 1 CREE GREEN LED
Voltage: 3.7 Volts
Runtime: Approximately 3.5 hours on high and depending on brightness mode up to 15 hours
Head Diameter: 32mm
Weight: Only 5.8 ounces with battery
Battery: 2 x 18650 Ferei flat type rechargeable batteries (only one is needed to operate the light) batteries have a shelf life of up to 10 years
Charger: A/C Charger
Starspot Hand Held Spot Light
New this fall is our StarSpot Hand Held Light. We have been looking for a bright light for those that like a little extra power to shine with. This light has 5 LED and produces 1500 lumens which is the highest that we have. It is light weight, only 14 ounces. It is a compact package only 8 1/4 inches long with a push button on/off switch. The StarSpot is made of high strength aluminum with a hard-anodized anti-abrasive finish and is powered by two 18650 Lithium 3000 mah rechargeable batteries. This provides a burn time of 2.5 hours with an approximate 300 yard range. In addition, each unit comes with a handy scope mount to use it for shooting. We also have available a carrying pouch with a belt loop is desired. Each unit comes standard with: light, batteries, and smart charger and a 1 year warranty. Add carrying pouch from the drop down menu below if desired.
Available Options: Belt Pouch: $20.00
Star Coon Hunting LED Cap Light
The "Chameleon" LED Cap Light by Star Coon Hunting Lights. A "Chameleon" is a lizard that can change colors in a snap. The old now you see it and now you don`t trick.
The "Chameleon" LED Cap Light" was designed and tested in the Mid 2015s After much testing this"Chameleon" LED Cap Light was released for sale to you all late in the year.
In a short time we sold enough of the "Chameleon" LED Cap Light to rate it as our #1 selling light. No returns, no problems, just a great light

Star Coon Hunting Lights "Chameleon" LED Cap Light has a multicolored LED,s to give the user the most choices in a Led light with a Warm White LED. The warm white LED is wide angle and can be used for walking and shining the tree. The off color white LED will cover the tree and bright enough to see the coon with out a spotlight.

A well balanced 19 oz unit with a 5 position switch on the head piece for selecting colors ( Red, Green, Blue, Warm White, or Dual White). A 4 position switch on the battery box controls brightness. The light comes with automatic charger and 2 year warranty. Choose a bump cap or soft cap with liner.

Burn time for dual white LEDs: Burn time for warm white, green, red, blue LEDs

* Click 1 -----------100 hours Click 1 -----------------60 hours

* Click 2------------ 35 hours Click 2 -----------------20 hours

* Click 3-------------12 hours Click 3 ------------------7 hours

* Click 4---------------3 hours Click4 ------------------6.5 hours
Quasar 3 LED Cap Light
Our Quasar 3 has a great set of features to offer. Start with a deluxe bump cap with swivel bracket. The head has 2 bright white LED to shine the tallest trees. Add to this a toggle switch to change to a Red LED to find those eyes. The entire unit weighs 1 pound, 5 ounces and includes a 4-position click switch to provide 4 levels of brightness. This will be a great combo for coon and predator hunters. It has a Lithium battery pack and comes standard with a smart charger that supports great burn times. Choose cap style from the drop down menu.
Position 1 - 62 hours
Position 2 - 11 hours
Position 3 – 4.5 hours
Position 4 - 2 hours
Comes with 2 year warranty. Package Includes: cap light and smart charger.
ChamCapLight
Chameleon Cap Light



Your price:

$235.00

Quasar3
Quasar 3 LED Cap Light



Your price:

$200.00
Mouth Calls for Predators
We have picked some of the better Predator call made. they are listed below and more will be listed when we find some that some of our testers are using today.
All our calls have been tested by our testers. These calls are made by the masters of predator calls.
UPK-06
Ultimate Predator Kit



Your price:

$24.95

PC-84
Magnum Predator Cottontail



Your price:

$10.95

SPH-06
Sly Pup Howler



Your price:

$15.95

BC-85
baby cotton tail



Your price:

$11.50

CP-03
Compensator Predator Mouth Call



Your price:

$12.95

CH-92
Coyote Howler Mouth Call



Your price:

$9.99

GHC
Government Hunter Cottontail Predator Mouth Call



Your price:

$13.00

GHJ
Government Hunter Jackrabbit Predator



Your price:

$13.00

ps92
Haydel's Pig Squealer



Your price:

$14.99

hs 12
ham a slama hog grunt



Your price:

$17.99

pw12
Haydel's Pork Pig Squealer



Your price:

$17.99
DECOY

Foxpro FoxJack 4 Decoy
The FoxJack 4 comes with a bird topper (which resembles a woodpecker) and a whisper-quiet motor. Use the decoy to looks real to give predators the visual confirmation that they are looking for.
The FoxJack 4 can be controlled remotely with your Foxpro Fusion or Crossfire digital game call. The auxiliary button on your Fusion or Crossfire remote control starts and stops the action of the FoxJack 4.

Usually ships the same business day

SKU## foxjack4decoy
Price $63.99
Electronic Callers
FOXPRO FUSION DIGITAL CALLER

Foxpro Fusion Portable Electric Caller Programmable up to 1000 Calls Skull Camo

The Fusion comes with 100 high quality Foxpro sounds and can store and access up to 1000 sounds. The Fusion features dual amplified speakers to deliver incredible volume. The front horn speaker handles common distress sounds and the rear cone speaker handles low frequency sounds such as bear growls. When combined they crisp, high quality sound. Call also gives users the ability to connect 2 external speakers. It features a charge jack, auxiliary jack and TX-1000 remote control. The TX-1000 features a full color graphic LCD screen which displays the sound list or sound categories. It also has a barometer indicator, moon phase indicator, temperature indicator, battery level indicator, or timer. FOXMotion allows the user to fade the sound from the left speakers to the right speakers to help with the reality of the sounds. FoxFusion allows 2 sounds to be mixed at the same time during call sequence. FoxPitch allows the pitch to be manipulated and FoxData allows real time information to be stored at every stand. It comes with Foxpro's Skull Camo. Uses 8-AA batteries.
Electronic Caller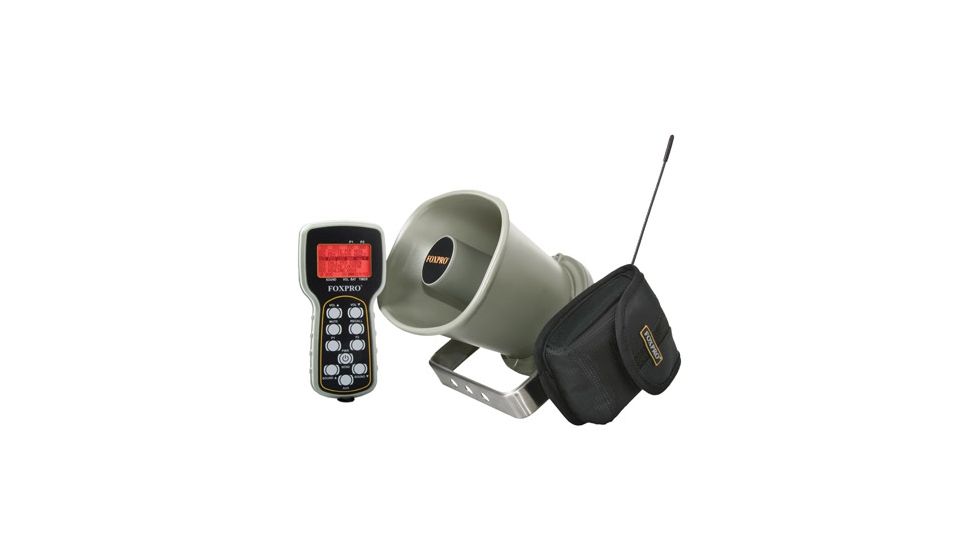 Foxpro HF1 Hellfire Digital Caller
Portable White
The hellfire features the Fox Bang which automatically switches to our pre-set call sound (ki-yi or pup distress for example) at the sound of your gun, this eliminates hunter movement and allows for faster calling change. There are 75 pre-loaded sounds, but has the capacity of 200 sounds. The Hellfire also features a high power horn speaker, user re-programmable with USB port, one external speaker jack for adding speaker, auxiliary jack for decoy, charger jack for charging rechargeable batteries, and a low battery indicator. These units also come with a TX-9 Remote. Water resistant. Uses 10-AA batteries.
Usually ships the same business day
SKU# hf1
price $279.99
FoxPro Wildfire 2
The FOXPRO WILDFIRE: a compact design, 35 high-quality FOXPRO sounds, and a remote control with FOXBANG technology.
The WILDFIRE weighs in at only 1.5 p

ounds with batteries. This unit offers maximum portability with great volume and sound quality. Connect an external speaker to the jack on the side of the unit for even more volume. The included remote allows you to change sounds, control the volume level, mute or pause the sound, has two custom sound presets, auxiliary button, recall button and much more! All of these features in a compact, high-quality unit makes the WILDFIRE an incredible value. The WILDFIRE is backed by a 3 year limited warranty and FOXPRO's unmatched customer support and is proudly made in the USA. Integrated USB Port Allows you to connect your caller to a home PC for reprogramming! FOXBANG¿ With FOXBANG activated the caller automatically switches to your preset #1 after discharging your firearm. This allows for hands free sound changing operation to help keep your eyes focused on the field where it counts. External Speaker Jack for connecting an additional speaker to the WILDFIRE for more volume. Internal Speaker "On/Off" Switch allows you to turn your internal speaker on or off. Pilot Lamp/Low Battery Indicator glows green while on, blinks when batteries are getting low. Tripod Mount located on the bottom of the unit. Made in the USA!
WF2
FoxPro Wildfire 2



Your price:

$199.99

HF!
Foxpro HF1 Hellfire Digital Caller



Your price:

$279.99

dkp
Dennis Kirk Predator Cassettes



Your price:

$9.95

hfc1
Foxpro HFC1 HellFire Digital Call Portable Camo



Your price:

$309.99

foxjack4decoy
Foxpro FoxJack 4 Decoy



Your price:

$63.99